Yesterday, I intentionally set aside everything and most of the day met with friends, just talking, mostly inspiring each other for self-development.
The last meeting was with Oleg Pronin, Alex Dubas and his wonderful wife. Beautiful people. If you have not heard of the inspirational lectures by Oleg, I highly recommend you to listen to them.
With Alex we once broadcast a live radio show on the «Silver Rain» station. These live broadcasts broke all ratings, and when I did the on-air consultations, all phones (several dozen) were jammed and many more people were even trying to reach the show through personal phones of the radio stations personnel.
Oleg, as always, shook us with his wisdom and harmonious personal development. However, it was evident that he was upset about some moments in the Russian economy. Creative, positive and kind attitude of Alex, are as always, very inspiring. I'll try to find time in November to go live on air on his radio show once again. Alex also gave me his new excellent book about happiness.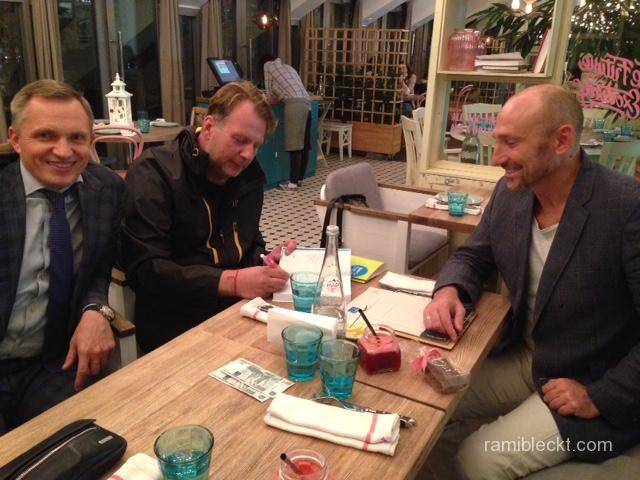 Alex signs his new book for Rami
We met at a very beautiful, but very expensive, raw-food and vegetarian restaurant around the notable Flower Boulevard. I helped them with my opinion in regards to some of their questions and issues they are facing at the moment.
I try to arrange my life now so that there is more time to communicate with friends and family to serve all of them. Eastern psychology states that we should be friendly to all and treat everyone kindly. The people who are above us, we serve them and learn from them. With people on our level — we are friendly. With younger people we serve them by helping them to develop.
Life is boring and complicated without friends …